In this article, we will know detailed about Streams After 10th – Arts, Commerce, and their career and Benefits. In normal both the subject arts, commerce subjects are taken by various students than science.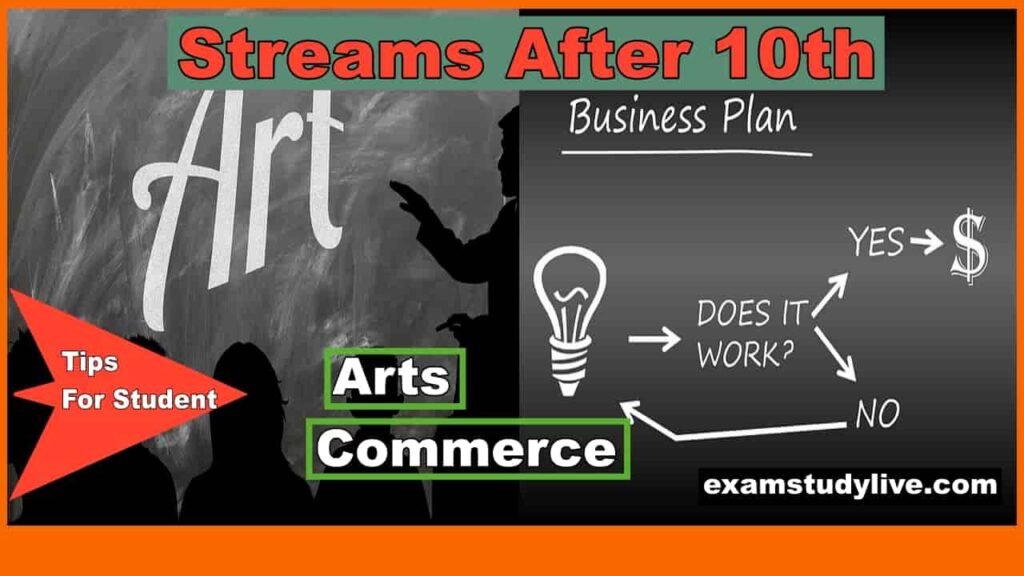 Commerce after 10th
After passing the tenth, there is a subject in commerce that is liked by the students. Children who consider science difficult, they are choosing commerce.
Apart from this, whoever wants to work in the field of banking, business, finance, chooses the subject of commerce.
A large number of students aspire to become online accountants, ie CAs, that commerce is useful for them.
Students studying in the field of commerce, after graduation, also take MBA and etc. courses and then like to work in the field of management.
Apart from this, after taking this stream, the banking sector is the closest to the job.
What is Commerce?
Commerce is defined as the study of trade and business activities as the flow of education, such as the exchange of goods and services from manufacturer to end consumer.
Topics taught in business in grades 11 and 12 include economics, accounting, and business studies.
If you have a genuine interest in these subjects, choose this field if you have a passion for numbers, economics, and Commerce.
The main subjects taught in the 11th and 12th school syllabus are Economics, Accounting, and Business Studies.
Students are advised to select this field if they have a connection to numbers and are more interested in economics and business.
Also read Best Time To Study And Memorize For Student
Advantages of taking commerce after 10th
If you are passing your matriculation examination and then take commerce then you get a lot of benefits.
These are some benefits of studying commerce
Commerce gives a great option to the people interested in the subject related to the account and who like to work related to it.
People who hold their own in the center of the center love this topic and it is completely dedicated to it.
There are many career options in this too.
To become an accountant, it is necessary to take commerce.
Subject in commerce
Following are the subject basically read in commerce
Business Studies
Economics
mathematics
Accounting
English
Economics
Arts after 10th
There are many children who neither have an interest in science nor in commerce, they study arts after passing the tenth to the same child.
Children who have a lower number in the tenth exam choose this subject. It is considered the easiest to study.
Apart from all these, the children who like Literature agent (like languages ​​like Hindi, English), Lawyer, Psychologist, History, Politics etc., choose this subject and study it.
There are many government officials who can study any of these three subjects after studying. But before that, you have to pass the competitive exam.
We have already written an article about how to prepare for the competitive exam which you are reading from here.
Also read Science After 10th, Science Subjects, Benefits, Career
Career for Arts students
There is also a career opportunity for art students in various fields.
Indian Postal Service, Indian Railways, Staff Selection Commission, IBPS, etc. There are many such departments in which you can sit in the examination and if you qualify then you also get a job.
In all these exams, you are asked 10th level maths questions, for which you should study Aptitude, Reasoning, English, etc.
Benefits of doing arts after 10th
Students studying in the field of arts have all kinds of opportunities.
With just a few opportunities left, there is an opportunity to do all kinds of jobs and courses related to studies.
One of the many types of courses is in event management, in which BA can do a degree course.
By studying under it, you learn creative skills, team spirits, time management, and management skills, etc., and become strong in it.
Apart from this, students belonging to this subject are very much fond of the writing department and later also Rohit his name as a writer.
There is a restriction for those studying science and commerce that if you have chosen this subject then you have to study in this field.
On the other hand, if we talk about arts, then students have a large group of options in which the group can go to any area.
Subjects in Arts
Following are the subject which read in arts stream student
Hindi
English
History
Urdu
Sanskrit
political Science
Geography
Psychology
Civics
Economics
Conclusion
In this article, you knew that Streams After 10th, Arts, Commerce, and their Benefits, Career. If you like this article and if you learn something from this article then share it with your friends, relatives by Facebook, Whatsapp, and Instagram, Thank you.